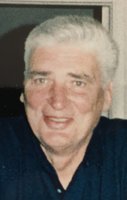 William E Wilson
William E. "Bill" Wilson, age 78, of, Hackensack died Tuesday, November 7, 2017 at Hackensack University Medical Center of Hackensack, NJ. William was born October 15, 1939 in Paterson, NJ.
He was the owner of Shadow Limousine for over 30 years. He served in the National Guard and was a member of American Legion Post No. 170 in Rochelle Park, NJ.
He is survived by his wife: Violet (Gola) Wilson. He is also survived by his brother-in-law and sister-in-law; Joan and Joseph Burek, his nieces and nephews; Glenn and Lynn Burek, Mark and Lisa Burek and Judy Richards and several grandnieces and grandnephews.
He was predeceased by his mother, Dorothy Tierney.
Cremation was private.