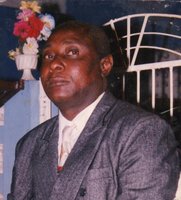 Pierre Gaspard Rochelin
Pierre Gaspard Rochelin, also known as in creole 'ingenier ya' was born to the union of the late Clairocia and Oscar Rochelin on January 5, 1953. Pierre was the third oldest of six children.
Pierre grew up on Ruelle Anjibo Turgeau, and was baptized at the church Sacre-Coeux Turgeau and moved to Carrefour, Waney in the early 1960's. He attended and graduated from Jose Maty College Upper Turgeau then Lycee Petion. He furthered his education by attending the Institute Technology of Civil Ingeneer. He graduated and commenced his career as an engineer. He was hardworking and dedicated as he worked at Camep D'Haiti for over 25 years.
Pierre was a loving brother, uncle and a fierce protector of his family and was full of life and love. He was self-reverse and had a quiet spirit.
Pierre leaves to mourn and cherish his memories his sister, Cleonie Loier and his three brothers Joseph Serge Rochelin (Marie Claude) Guy Antoine Rochelin and Kesnel Rochelin (Marie Francois). He also leaves six nieces: Marie Serge Rochelin, Guirlene Rochelin (Francois), Guerloude Rochelin (Belot), Magdaley Rochelin, Franceska Rochelin and Guylancia Rochelin. And nine nephews Kerby Will Rochelin, James Rody Rochelin, Wilgens Rochelin, Glenn Rochelin, Dickison Rochelin, Michael Rochelin, Kenny Rochelin, Olsen Rochelin and Derek Rochelin and a host of relatives and friends.
Pierre was preceded in death by his parents Clairosia and Oscar Rochelin and his brother Jean Boo
Rochelin.
Funeral Liturgy on Saturday at St. Paul's R.C. Church, 286 Haledon Avenue, Prospect Park, NJ at 10 AM. Cremation is private.
Visiting on Friday at DeLuccia-Lozito Funeral Home, 265 Belmont Avenue, Haledon, NJ from 5-9 PM.