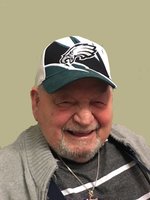 Angelo Charles "Midge" Rabuano
Angelo Charles "Midge" Rabuano passed away peacefully on January 14, 2018 at his home in Kinnelon, NJ after a long battle with Lewy Body Dementia. Some lives are simply too grand to capture with words. Angelo was born in Paterson, NJ where he attended Eastside High School before enlisting in the U.S. Army and later the U.S. Air Force. He was also a member of the Paterson/Elmwood Park Elks Club.
Angelo's talents and passions knew no bounds. Everyone who knew him could attest to his quick humor and his sharp intellect. From his numerous stories to his perfectly-timed jokes, Angelo always captivated those around him. He had a powerful singing voice, one he shared both on stage and around his home. He also wrote poems for his wife, tokens of his creativity and love.
Angelo was an avid sports fan, always rooting for his favorite teams; the Philadelphia Eagles and the New York Yankees. As for his own activities, he was the handball champion at the Paterson YMCA. He also was a gifted bowler and joined many bowling leagues with his wife.
Every family needs a strong foundation and Angelo built his family with strength, wisdom and love. He was a loving husband, adoring father and extraordinary grandfather. Angelo was predeceased by his parents, Thomas and Josephine and his sister Angelina. Angelo is survived by his loving wife, Anne Bello Rabuano, his son David and his wife Erin, his daughter Lisa Patullo and her husband Michael, his daughter Linda and his four grandchildren; Christina, Michael, Teagan and Emma.
Funeral Service on Wednesday evening at 7 PM at DeLuccia-Lozito Funeral Home, 265 Belmont Avenue, Haledon, NJ. Cremation, private. Visiting on Wednesday from 3-7 PM. In lieu of flowers, the family asks for donations to the Ramapo-Bergen Animal Refuge,Inc. as Angelo was a friend to all animals.
"A limb has fallen from the family tree that says, "Grieve not for me. Remember the best times, the laughter, the song...the good life I lived while I was strong."