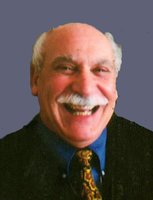 Robert Costello
Robert Costello, age 86, of, Haledon died Monday, March 5, 2018 at home in Haledon. Robert was born August 31, 1931 in Newark, NJ. He lived in Bloomfield, NJ for many years before moving to Haledon 33 years ago.
He served in the Air Force during the Korean war. He was a chef at several area restaurants and also was a flight instructor.
He was a parishioner of St. Gerard's R.C. Church in Paterson, NJ.
He is survived by his dearest friend and partner, Theresa Angulo of Haledon, NJ, his nephew, Rev. Marc Vicari of Upper Montclair, NJ and his cousins, Geraldine and Dorothy.
He was predeceased by his sister, Sandra Vicari.
A Mass of Christian burial will be held 10:00 am on Friday, March 9 at St. Gerard's R.C. Church, West Broadway, Paterson, NJ with Rev.Marc Vicari officiating. Burial will be in Holy Cross Cemetery, North Arlington, NJ.
Visiting on Thursday, March 8 from 2-4 & 7-9 PM at DeLuccia - Lozito Funeral Home, 265 Belmont Avenue, Haledon, NJ.
.