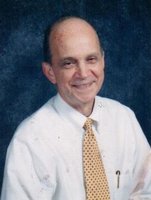 David J. Grimes
David J. Grimes, Sr., age 81, of, Paterson died Sunday, March 11, 2018 at St. Joseph's Hospital And Medical Center in Paterson, NJ. David was born November 19, 1936 in Paterson, NJ. He lived in Paterson his entire life.
He was a school teacher at Washington Park School in Totowa, NJ for 49 years and retired in 2004. He was the director of the Drama Club at Washington Park School and also the director of the Summer Art Program at Passaic Valley High School in Little Falls, NJ. He was a member of the Holy Name Society at St. Mary's R.C. Church in Paterson and served in the National Guard.
He is survived by his wife: Mary Lou (Tarsitano) Grimes, his two daughters: Susan Liberti of Clifton, NJ and her husband Michael and Lisa Grimes of Glen Ridge, NJ, his two sons: David J. Grimes, Jr. of Miami, FL and Joseph Grimes and his wife Diane of Pompton Plains, NJ. He is also survived by his sister: Marie Nazzaro of Hampton Township, his brother: Raymond Grimes of Pompton Lakes, NJ and his grandchildren; Taylor Grimes, Nicole Liberti, Sophie Van Sickle, Julia Van Sickle, Haley Grimes and Skylar Grimes.
A Mass of Christian burial will be held 10:30 am on Thursday, March 15 at St. Joseph's R.C. Church, 216 Comly Road, Lincoln Park, NJ. Burial will be in Fair Lawn Memorial Cemetery, Fair Lawn, NJ.
Visiting hours will be Wednesday, March 14 from 4-8pm.
In lieu f flowers, memorial gifts to RhinoTheatre, c/o The David J. Grimes, Sr. Theater Arts and Education Memorial Fund, 237 Hamburg Turnpike, Pompton Lakes, NJ 07442 would be appreciated.
.