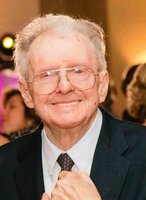 Harry Joosten
Harry Albert Joosten, 89, of Haledon, NJ passed away peacefully on Sunday, December 30, 2018. Harry was born and raised in Paterson. Harry will be dearly missed by his wife Antoinette (Ann) (nee Matteo), his daughter Denise and her husband Joe Van Schaik of Fairfield, NJ, his son Mark and his wife June of Wyckoff, NJ. He was a loving grandfather to 3 granddaughters, Samantha and her husband Eric Quartello, Lindsey, and Allison. Harry is also survived by his brother-in-law Vinny and sister-in-law Carol Matteo and numerous nieces and nephews. Harry is predeceased by his son, Jeffrey, his brother Dennis and his wife Ellen.
Harry served as a United States Marine and was a veteran of WWII and The Korean War. Early in his career he worked as an Ecclesiastical Salesman for Deprato Studios in NYC where he met his wife. He went on to work for Tupperware Industries where he retired for a short time and then went on to work for Prospect Park Savings and Loan for several years before retiring to go hunting, fishing, and spending time with family.
Funeral from DeLuccia - Lozito Funeral Home, 265 Belmont Ave in Haledon, NJ on Thursday at 9 AM. Funeral Lturgy at St. Paul's R.C. Church in Prospect Park, NJ at 10 AM. Interment, Holy Sepulchre Cemetery in Totowa, NJ. Please come join us in remembering Harry on Wednesday from 3-7 PM. In lieu of flowers, memorial gifts may be made in Harry's name to St Paul's R.C Church - 286 Haledon Ave, Prospect Park NJ 07508 would be appreciated.